Fence Staining
Most fences appear weathered and turn gray within just the first year of being built. However, if the fence is sealed and coated, it will keep its color and integrity for several years. Pigmented stains will allow you to match or enhance current color schemes and landscape.
Here are a few benefits for staining your fence:
Meet the standard criteria of your HOA
Seals and waterproofs wood
Protects wood against mildew
Shields wood from harmful UV rays
Restores weathered wood
Provides protection for wood in extreme climates
Prolongs overall life of fence
Adds value
Color
With the high prevalence of termites and other wood destroying insects in Texas, such as carpenter ants, as well as the hail, sudden temperature changes, freezing ice during winter, and brutal hot summers, your fence will also have a very short life span if you do not make sure it is properly stained and sealed. Basically, when you apply fence stain you are spraying on a layer of "bark", imitating natures protective coating for the wood. Fence staining is more important here in Texas than in any other state, because of our unpredictable and harsh weather extremes and our pesky wood-loving critters.
Besides protecting your investment from the ravages of the elements, fence staining also drastically improves the look of it, bringing out the beautiful tones and features of the wood. In order to extend the life of your fence for as long as possible, Hahn Painting recommends that you undergo fence staining once every 3 to five years.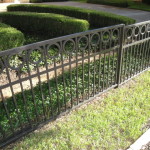 At Hahn Painting, we provide professional fence staining services and take care to protect your driveway, house, and landscaping during the staining process. We will ask you to move any vehicles out of the spray zone. Houses, landscapes, and concrete walkways or driveways will be either covered or will be protected with a special soap solution. A special solvent will be applied to a fence that has turned grey to take the grey out before staining. Areas of the fence that are right next to the house will be brushed with care by hand. We also replace any damaged boards. Steel posts and gate hardware are cleaned up when the job is completed.
We also offer excellent fence painting services and wrought iron fencing services in Colleyville, Southlake, Trophy Club, Westlake, Keller, Grapevine, Hurst, Euless, Bedford, Flower Mound, Dallas, and Fort Worth areas of North Texas.
At Hahn Painting, we respect your home and your property! Not all fence companies take such extreme measures. Call Hahn Painting today!
GET A FREE FENCE STAINING QUOTE!